About The Bikes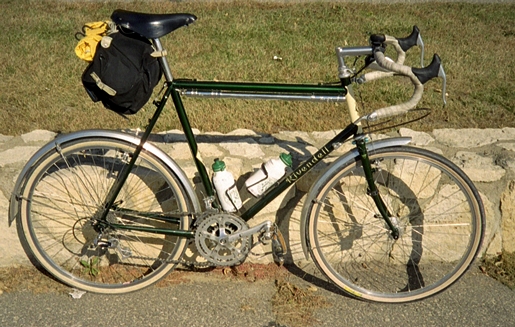 Tim's bike is a 1996 Rivendell All-Rounder, built at the Waterford Precision Bicycles factory in Waterford WI. Waterford-built Rivendells differ from the current bikes, which are built by Curt Goodrich, in several ways.
First, the Waterford-built Rivendells were constructed with custom drawn Reynolds 753 tubing whereas current Rivendells are built from a vast array of tubes from different makers, especially chosen by Grant Petersen on an individual basis for each rider.
Second, when this All-Rounder was built, they all were designed around 26" wheels; nowadays, the larger size (59 cm +) A/Rs are built around 700C wheels and the smaller sizes around 26" ones. This makes the aesthetics of the bikes a little more normal. On a large frame like this one, the small wheels look a little odd although they work fine. The ride is maybe a bit bumpier than would be the case with 700C wheels, but not so much as to be at all objectionable on the road. There's much more to ride comfort than wheel diameter, besides.
Third, all current Rivendells are full-custom bikes. When I bought mine, there was a set of stock sizes to choose from. Now Grant designs each Rivendell to fit each rider. The frames Rivendell sells that are built to stock sizes are Herons (built as a joint project with Waterford) and Atlantises (Atlanti?) which are built in Japan by the Toyo company- who also build Ritchey frames among others. Herons are unfortunately no more, but Rivendell continues with the highly successful Atlantis and is adding the Rambouillet road bike sometime in 2002.
Fourth, Grant has refined his sizing philosophy and tends to put customers on bigger bikes, emphasizing all-day comfort and practicality over Euro-pro looks. I sort of insisted on this size, which is probably 4-5 cm smaller than Grant would have sold me now and was 2 cm smaller than he wanted to sell me in 1996. The reason for this is that the All-Rounder was going to be my primary off-road bike and I wanted greater standover height. Funny how things change, but now I use the bike as a true all around bike- mostly as my favorite road bike but also off road on a whim (usually all in one ride). I've very happily commuted to work on it, used it for weekly hammerfests with my racing club and I've used in on tour, too. Experience has shown that I can ride a much larger frame off road perfectly well, so in retrospect I could have gone with a 62 or even a 63 without difficulty.
I've now had the bike four years and have been delighted by it every time I've ridden it. It's seen about 10,000-12,000 miles thus far. It has been completely trouble free from the very beginning. The frame arrived while my wife and I were on vacation, and UPS left it with a neighbor. She spotted us unloading the car and ran the box right over to the house with the box from Rivendell. As I recall, the luggage sat out on the front porch while I hurried the bike downstairs and got it out of the box.
I just looked at it for a while, turning it around and around and upside down. The color ("Sherwood Forest" green) was perfect as was the cream head tube. The seat tube decal matched the head tube perfectly and the "Rivendell" decals on the down tube complemented everything just so. I had bought all the bits and pieces for the bike- Allen bolts for the water bottles and dropout eyelets, downtube cable adjusters for the bar-end shifters, brake cable hangers and adjusters, etc. I hadn't needed to because Rivendell supplied all that with the frame (which wasn't something they had mentioned in the catalog or the frame ordering brochure- I was very impressed). The headset was installed and perfectly adjusted, and the bottom bracket shell had been faced and the threads had been chased. The frame reeked of Weigle Frame Saver (I could honestly have said "this frame stinks" and meant it as a complement).
I started to assemble the bikes, my luggage still sitting on the front porch forgotten. Everything just slid together like butter. I had built the bike up in about 45 minutes with no problem because the frame was perfect. Absolutely perfect to the tenth of a millimeter. I worked in bike shops for years and never saw the like. Gary Boulangér (Rivendell's man at Waterford) had sent me a wonderfully detailed frame.
I first put the bike together as an off-road bike with Moustache bars and knobby tires. I acquired a second wheelset and began to swap back and forth. I was never happy with the Moustache bars, however, getting pain between my shoulders when riding with them. No amount of adjustment nor stem swapping seemed to cure this. Since I was riding the bike almost exclusively on the road, I finally switched to drop bars and haven't looked back. It took a few iterations, but the end result (as of September 4, 2001) is:
Rivendell All-Rounder, 59.5 cm center to top
Brooks B.17 saddle on a Ritchey Force Directional seat post (made by Nitto)
Homemade leather tool bag or Carradice Nelson Longflap saddle bag
Nitto Model 176 handlebars, 44 cm (I preferred the model 175 but I bent 'em and Nitto doesn't make the 175 any more)
Ritchey Pro Comp stem, 130 mm
Tange head set (I forget the model, installed by Rivendell)
Dia Compe 287 aero levers for cantilever brakes
Mafac tandem cantilever brakes with Kool Stop brake pads
Cork bar tape, white
Ritchey 110/74 BCD triple crank, 175 mm; 30-44-52 rings
Sachs 12-24 7 sp freewheel
Ritchey SuperLogic 120 mm BB
Sun Tour XC Pro shortie (really a "middie") rear derailleur
Sun Tour Cyclone II front derailleur
DiaTech bar end shifter mounts carrying old Sun Tour friction DT shifters
Phil Wood hubs with Sun CR-16a polished silver rims, 32 hole front and rear
Ritchey Tom Slick 26 x 1.0 tires (the best I have found for this bike)
Nitto water bottle cages
Chrome plated Silca frame pump with steel Campy head
Riding this bike has consistently been a delight. It is the best mannered bike on the road I have ever encountered. The All-Rounder is nimble and quick feeling, yet stable and a joy to be on when really tired since I don't have to fight it to get it to go in a straight line. With the Tom Slicks it flies, easily fast enough to use on hard club training rides with a 20 mph average over a hard, hilly course for 2:45. Cornering is ubelieveably secure and confident. I've never raced it, but there's no reason that I couldn't other than that my race bikes are tools and this is art. If I'm going out for a century, this is the bike I pick. If I want one of those rejuvenate-my-soul rides when I am feeling burned out and weary, this is the bike. If I want to go out and have fun, be able to ride wherever I feel on a whim... this is the bike. The bike I'm planning on still riding when I'm 64? You guessed it: THIS is the bike.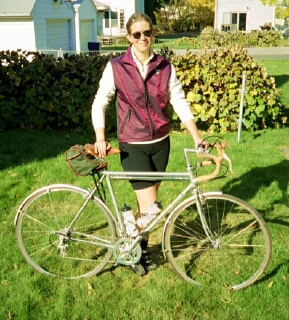 Jean's bike is a 1999 Heron Road. She had owned a 1993 Bridgestone XO-1 that I had bought for her as an engagement/wedding present in early 1994. It was a wonderful bike that she liked very, very much. Unfortunately in July 1999, the XO-1 was smashed while Jean was at work. She had ridden to work and locked the bike up to a street sign in front of her workplace, where it was run over by a woman who apparently confused her accelerator and brake pedals, jumped the curb, ran over the sign and the bike, turned hard to the left (narrowly avoiding hurtling through the front windows of a business) and roared down the sidewalk until she hit a tree. I have never seen a bike so damaged. I'll put up a photo of the remains one of these days.
After wrangling with the driver's State Farm Insurance representatives for three or four months, they finally paid up but not without a lot of bad will on their part (which, combined with shabby treatment towards a lot of homeowners with damage form a series of spring storms in 1999, led to us cancelling our own State Farm home and auto policies). In the meantime we had bought a nice NOS Bridgestone RB-2 that was hanging from the ceiling at Osell's bike shop in Minneapolis. That worked all right, in fact Jean likes it quite a bit, but I wanted her to have a bike with some specialness to it. After all, the XO-1 was her engagement/wedding present, not the RB-2 (a worthy bike in its own right, but not as interesting or unique as the XO-1).
I wanted to buy her a Rivendell, but after a couple of price increases doing so just managed to remain out of reach financially. The long wait was a problem, too, so I decided to buy her a Heron. Rivendell shipped this pretty promptly to me, maybe a month or so wait. I would have gone with an Atlantis, but I was about two months ahead of the announcement about those frames. As it turned out, she wouldn't have gotten an Atlantis until Christmas 2000, so it was just as well.
In the meantime, I began to scour the local bike shops, Rivendell and the Internet for the right parts. Since Jean is a devotee of friction shifting and generally all bike things traditional, some of the parts choices were no-brainers. A Brooks Pro S saddle, for example, was a requirement. I decided to go for Sun Tour Superbe as the component group. Luck was on my side as a local cyclist advertised a set of just-before-indexing Superbe derailleurs, DT shifters, freewheel and brakes on the Internet at a very reasonable price. I picked those up (that was an adventure in and of itself). I decided to go with a Phil Wood rear hub that I bought at Osell's Custom Frames in Minneapolis. The rims were also no-brainers: Mavic MA2. The front hub was a Sun Tour Superbe from another source, and the Nitto Randonneur bars and Nitto Technomic Deluxe stem came from Rivendell along with the Sun Tour Superbe Pro crank, Phil BB, and Dia Tech bar end shifter mounts. The headset was a Stronglight X-94 that I had had intended to use on the All-Rounder until I realized that it wouldn't work with a cable hanger for cantilever brakes. Stuff is carried in either a Carradice Lowsaddle Longflap bag, a Rivendell/Duluth Pack "Banana Bag," or a Rivendell/Carradice Boxy Bag handlebar bag with a Nitto bag carrier.
I smuggled the frame and parts over to my friend Steve Brown, proprietor of Polar Cycles in Grant MN. I also bought some stuff through him, including the seat post, natural cork bar tape, SKS fenders, Continental 700 x 28 Super Sport 2000 tires. Steve built up the wheels and put the bike together with me, and then promised to keep it at his house until a couple of days before Christmas. On the 2rd I picked it up and hid it at a neighbors, until I could sneak it into the house. I put it in the front room while Jean was out, knowing that she'd find it when we went out for Christmas Eve with the family. I have only occasionally managed to truly surprise Jean... and this was one of those times. It was a lot of fun, and the pleasure she has had from riding it this summer made all the scurrying around worth every second.
Humorously enough, we own a Rivendell built by Waterford, a Heron built by Waterford and a Gunnar built by Waterford... but no bikes that actually say "Waterford" on them!