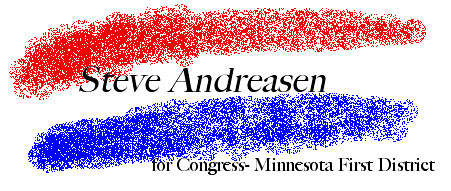 A message from Steve about the 2004 election
Dear First District DFL'ers:
Greetings. Over the past few months, many of you have encouraged me to consider a second run for Congress in the First Congressional District. I am convinced a Democrat can win in the First, and I believe 2004 can be a good year for Democratic candidates in Minnesota, and across the nation.
Together in 2002, we made a strong showing across the District. It was a difficult year for Democrats, especially here in Minnesota where we were also in mourning over the loss of Paul and Sheila Wellstone. The issues we championed in our campaign -- strengthening our national and economic security, improving education and health care, protecting worker's rights and revitalizing our rural economy -- garnered over 92,000 votes and important endorsements, including from the Rochester Post Bulletin and the Minneapolis Star Tribune. Today, these issues remain at the forefront of the political debate.
That said, having run full-time in 2002, I also understand that it will take a candidate who can devote all of his or her energies to a full-time campaign beginning in January 2004 in order to beat an incumbent member of Congress. With great reluctance, I have concluded that I am not in a position to seek your endorsement this election cycle. I remain committed to seeing the DFL take this seat and will do everything I can to help our endorsed candidate win next November.
Representing First District DFL'ers on the 2002 ballot was a tremendous honor. I hope to continue to see and hear from you in the months ahead. I'll be continuing my teaching at the Humphrey Institute as well as consulting on national security issues. Please stay in touch.
All the best,
Steve
Paid for and authorized by Andreasen for Congress