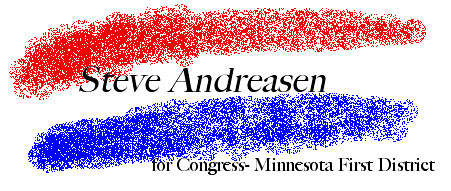 Thoughts on Labor Day 2002
Today, our nation honors all those Americans who work hard to support their families, pay their taxes, and build a strong and united America.
We owe a debt of gratitude to those who have fought hard to advocate on behalf of working families across Minnesota and the United States. I strongly believe in the right to organize and the right to bargain collectively. Those rights are clearly stated in national labor laws, and those laws need to be vigorously enforced.
There is much progress to be made on issues that are important to working families across Minnesota's First District. Restoring and strengthening our economy; protecting Social Security and Medicare; tax fairness; education; prescription drugs; rebuilding our nation's infrastructure; protecting worker's retirement plans; and improving national security.
As we spend time this weekend with friends and family, I hope we all take a moment to reflect on the gift of independence and prosperity passed down to us by generations of working Americans through service and sacrifice, and the continuing price of freedom, both at home, and abroad. This is also a time to remember our men and women in uniform, who are serving our country today.
Paid for and authorized by Andreasen for Congress