Fall Tour 2000
My wife, Jean, and I decided to take a bike tour around Lake Pepin, part of the Mississippi River, in the fall of 2000. We take a vacation every year to celebrate our anniversary, usually to the North Shore of Lake Superior and the Ely MN area along the Boundary Waters Canoe Area. This year we decided to try something different.
The plan was a five day bike tour from our home in St. Paul to Red Wing, Wabasha, Maiden Rock WI, Hudson WI and home again. Life, which has been aptly described as "what happens while you're making plans to do something else," reared its ugly head in the form of medical problems for Jean. As a result, she had to drive part of the way and do day rides by bike. I decided to try to ride as much of the original tour as was reasonable under the circumstances.
Day 1: St. Paul to Red Wing MN
I left St. Paul aboard my Rivendell All-Rounder, about noon as I was planning on the ride being between four and five hours. (More about the bikes here). Since I was riding this leg of the trip alone, I could take the hillier, more direct route to save a few miles but have a more interesting ride (or so I thought). My plan was to travel light in the English tradition, packing all my luggage in a single Carradice Nelson Longflap saddlebag. My packing list was based on Jobst Brandt's list on the Trento Bike Pages.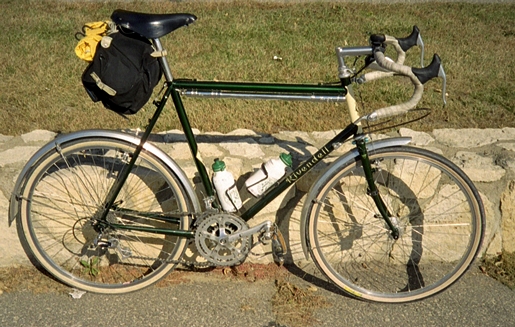 I rode east on St. Paul's Summit Avenue past the mansions of lumber barons, railroad magnates and the like. It's a pretty ride in the fall, past a goodish portion of Minnesota history- places where F. Scott Fitzgerald, James J. Hill and Sinclair Lewis lived. Summit Avenue traverses the bluff above the Mississippi River gorge across the loop of the river from west to east. At the west end is the University of St. Thomas, built roughly on the site where Bishop Ireland had hoped to be the State Capitol; at the east end is the Cathedral of the Archdiocese of St. Paul, also built by the Bishop. It sits on the end of the bluff, overlooking downtown St. Paul and the location where the State Capitol was actually constructed.
Before getting that far east on Summit, however, I cut down Irvine- a pretty side street which switchbacks along the side of the bluff through a quiet neighborhood of quaint old houses and a few ugly new condominiums built by speculative developers trying to cash in on the Old Europe feel of the neighborhood. Sigh. I came out at the foot of Ramsey Hill, a one block long climb that gains about 300 feet in elevation. Heading southish, I rode up the Smith Avenue High Bridge overlooking the Mississippi River. I was fortunate enough to spot one of the local paddle-wheel boats out for a tour of the local river (see the photo below, taken from the High Bridge looking upstream towards the confluence of the Mississippi and Minnesota Rivers). The weather was as nice as Fall in Minnesota can be, which is pretty nice, although the southwest wind was a concern since it would make for a headwind or cross wind the entire way.
The High Bridge connects St. Paul with West St. Paul, which interestingly enough is actually south of St. Paul rather than being west of it. South St. Paul, another community, is east of West St. Paul and south-east of St. Paul proper. West St. Paul is so named because in the riverboat tradition the left bank when going upstream is the "west bank," regardless of whether it is actually to the west or not. The old, picturesque High Bridge was blown up and replaced with a modern concrete span in 1985. The new bridge is still quite impressive, at the high end of the bridge being some 300 feet above the river.
At the top end of the bridge I continued climbing on Smith Street, one of the longest climbs in St. Paul, until it ended at Marie, and them took Marie east to Charlton. I rode south on Charlton, passing a nature center with its newly constructed interpretive center, to Highway 110, where I planned to cross the highway and turn left on the eastbound side to get to Robert Street. Turning left is illegal at this intersection, but unfortunately there is no practical alternative that is not significantly out of the way. Inconveniently, there was a police cruiser parked about a half block from the intersection, obliging me to follow the law (darn!). I went west on Hwy 110 to Delaware, south on Delaware and then east on Sunfish Lake Road to Robert Street- adding about 2 miles to my ride. Grumble, grumble...
Back on course, I turned left off Robert Street and rode south to 70th Street. Left for a block and then right (past the Inver Grove Heights Police Department) on Barnes Avenue, which winds beautifully through Inver Grove Heights. This section unfortunately started with a long flattish uphill into the wind.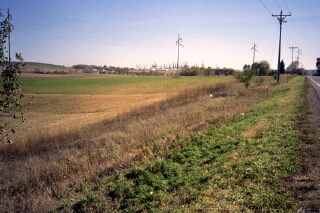 Barnes Avenue crosses I494 on an overpass, and just south of the overpass it intersects the intriguingly named "Courthouse Boulevard Court." Looking southwest from this corner is one of my favorite views in the Twin Cities area. Barnes winds southwest through rolling terrain and intersects Rich Valley Road near a pretty cemetery populated with Irish and German immigrants from the mid to late 1800s. Offering a "Dia anseo isteach" to the Famine Irish resting there, I went on my way south down Rich Valley Road. The road goes due south along the west side of the controversial Koch Refinery at Pine Bend MN, a post-apocalyptic vision by comparison to the semi-rural suburbs I had been riding through. The photo, taken from a mile away, looks almost idyllic. Koch is an oil refinery- and the largest privately owned corporation in the US- which has been involved in quite a bit of controversy, due to both its political activities and to the Dynasty-esque machinations among the family who own it. Past the refinery, I took 140th Street east to meet up with Hwy 55, eastbound towards Hastings and lunch.
As recently as a year or so ago 140th Street went straight across Hwy 52, which is the primary link between Rochester MN and the Twin Cities. This year, I discovered that the "improvers" had been at it again, diverting the road on the east side of the highway and sodding over where the road used to be. I couldn't see where the new road came out onto the highway, and I ended up riding across this summer's new sod to cross the highway. My apologies to the landscaper!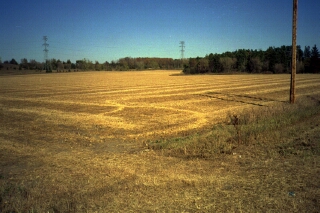 According to the maps, I could ride on the shoulder of congested two-lane Hwy 55 for a couple of miles and then go south on Goodwin Avenue to the next corner. The map made it appear that I could go east on 150th Street into Hastings. This turned out to be three miles of very loose gravel across gently rolling terrain, until it became 15th Street in Hastings MN, at which point the blacktop resumed.
I stopped for lunch at the Spiral Foods Cooperative in downtown Hastings. Jean worked at Mississippi Market Cooperative in St. Paul MN, so we try to do all of our buying of food and other products in cooperatives. I had no idea that there are so many cooperatives producing so many different kinds of goods and services! Our marriage has been an education in methods of economy that I never knew existed. After a nourishing lunch of organic vegetable soup, organic yogurt, some organic fruit and a sandwich made with (you guessed it) organic turkey and bread, it was time to hit the road again. Up to this point I had been basically familiar with the roads, but shortly I would be riding on roads I had never seen before except on a map.
Hastings is a quaint river town with many fascinating old houses (including a number of Second Empire homes, Edwardian houses, and an octagonal house) and a downtown business district that doesn't look much different than it did at the turn of the century. In the old days, the bridge spanning the Mississippi into Hastings had a dramatic spiral to funnel traffic into downtown rather than bypassing it. Only the footings of the old bridge, and a memorial plaque, remain. The "spiral" in Spiral Foods comes from that old bridge; a scale replica may be seen several miles south of Hastings on 220th Street, just about 1/4 mile east of Hwy 61 (yes, Bob Dylan's "Highway 61").
I knew that I was looking for Ravenna Trail, which follows the path of the river southeasterly out of Hastings. Ravenna used to be a sleepy back road, but it has been transformed by the opening of a casino on the Prairie Island Indian Reservation. Traffic roars from Hastings to the casino and back- hopeful going out and gleeful or frustrated (usually the latter) upon return. I had to cast about a little bit, but eventually found the road I was looking for- 10th Street- by riding south on Hwy 61 through Hastings. A few blocks south from where I turned is the Vermillion Falls Park, well worth a stop.
Turning east on 10th Street, I was confronted with one of the familiar blue "Adopt A Highway" signs scattered around Minnesota and perhaps other places. The idea is to get citizens to pick up litter along the roadsides for free rather than having a government employee do it; this is supposed to keep our taxes down and improve our sense of civic responsibility, or something. In exchange, whomever agrees to do this gets a blue sign announcing that they have adopted the next mile or two. Anyway, the blue sign said that this particular stretch of road had been adopted by the L.F. McNamara family. There are lots of McNamaras around Hastings, who are not related to me as far as I know- except in the broadest sense of clan, perhaps. There's some history about my family here, if you're interested. Coincidentally, my father was Leo Francis McNamara; having passed away in the summer of 1996 he is not adopting highways in Hastings. I took a photo just for the coincidence.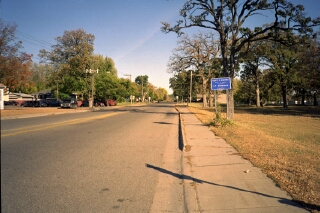 10th St./Ravenna Trail crossed a bridge high over the Vermilion River, just downstream from the park and its moderate and rather pretty waterfall. Below the bridge to the south were the ruins of an old mill or something. Unfortunately, the bridge had no walkway to stop and look from and had high fencing which prevented me from stopping for photos. A pity, really. I suspect that the reason for the restrictive structure of the bridge is that the old Hastings State Hospital, now converted into a nursing home, was only a block or two away. The fencing was probably constructed with the safety of the patients of the State Hospital in mind.
The road was surprisingly quiet for the first few miles, and then traffic began to pick up as the day shift ended in Hastings. As traffic got heavier, the manners of drivers deteriorated both towards each other and towards me. It always amazes me that drivers become so frustrated by having to slow down for 30 seconds or so until the road is clear- I do it when I am driving, too. According to my map, I was to follow Ravenna Trail until it ended at 200th street. Unfortunately, Ravenna ended at 199th St. I wasn't sure what to do until I noticed that 199th St. was also Cty 68, which was supposed to be 200th St. on my map. I turned right and was rewarded by a sign on a gravel road indicating the continuation of Ravenna Trail. As it turns out, 199th morphs into 200th a little farther to the west.
Now I was on unfamiliar terrain. At some point in the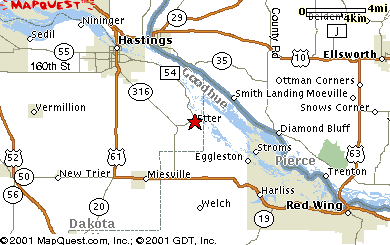 past, I had ridden almost all the roads I had been on all day so I basically knew where I was going. After turning off 199th St. onto the gravel road called Ravenna Trail, I was now on unfamiliar terrain. I was aiming to go through the small town of Etter on back roads, up to Hwy 61 and cutting a diagonal off the route of the highway. I would be on Hwy 61 for a block or so and take Cty 7 into the town of Welch, on the Cannon River. It didn't work out that way. For one thing, I had resorted to using MapQuest for this portion of the trip because I couldn't find maps of large enough scale to identify the roads I needed to use. I made the error of trying to memorize the map and writing down the directions. Needless to say, I got lost. Not horribly lost, just frustratingly lost. Thanks to some kids skateboarding and their mother, I was able to find Hwy 316, which is a shortcut between Hastings and Red Wing. I had wanted to avoid it because it is a narrow road with little or no shoulder and lots of traffic. No such luck, but at least I knew where I was going.
By this time I'd been riding about as long as I thought the whole day's ride would take, and I knew I had about 15-20 miles left. Jean would have killed me at this point, had she been along on her bike, so perhaps it was just as well that she wasn't. There's not much reason to suffer on a vacation, after all. Thanks to a full season of race training, I was ready for a long ride with some luggage and the distance wasn't really a problem but Jean rides just for fun. The available daylight, on the other hand, was a different story.
Riding on 316 wasn't as constantly bad as I had thought it would be, but it still wasn't pleasant. In addition to the traffic, I was now riding into the headwind with nothing to block it; the road surface was bad despite my 26 x 1.25 tires, with cratered-out expansion joint seams that jarred me every 50 yards or so. One of these must have had a collection of sharp glass or something in the bottom, because as I bounced over it my tire was punctured and went flat in a matter of a few feet. The rubber was sliced and there was at least a 1/4 inch gash in the casing. I booted it with a dollar bill, replaced the tube, pumped the tire up and hoped it would get me to Redwing.
I found Hwy 61 and went south for a mile or so to the white church on top of the hill that is the landmark for the turn onto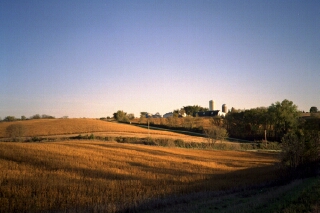 Cty Rd 7, which drops down into the hamlet of Welch on the Cannon River. It is a very pretty rural road, as the photo attests. Cty 7 was a fun descent but the bite in the air was a reminder that it was indeed Fall and that the sun was going down fairly soon. Crossing the picturesque Cannon River, I picked up the Cannon Valley Trail, a privately funded and maintained rails-to-trails conversion between Red Wing and Cannon Falls. Old railroad mile markers are still along the side of the trail, which mostly follows the Cannon River and drops ever so gently into Red Wing. Finally the headwind was a quarter tailwind and I was able to make good time all the way into Red Wing. Dusk fell, which added a mysterious quality to the trail. My Cateye Micro headlight performed surprisingly well, for a little AA battery powered thing, and allowed me to at least be able to make out the most significant features of the asphalt.
Riding into Red Wing I went straight to the St. James Hotel, where Jean and I were staying. I threaded past the Red Wing Pottery store and the Pottery Place mall, converted from the original Red Wing Pottery factory. She was going to meet me at the St. James, driving down in her 1972 Volkswagen bus and bringing her Heron Road bike with her. The St. James is something of a throwback to the opulence of the lumber baron days. I rolled my bike a little self-consciously into the lobby, feeling a trifle self-conscious in bike clothing. When I approached the desk, the staff didn't bat an eye at my appearance. I was a little surprised by this, as 6'4" men in Lycra often provoke some sort of response. The desk clerk greeted me, saying "You must be Tim. Would you like us to put your bike in secure storage?" My estimation of their customer service went up dramatically. I unloaded my Carradice saddlebag, turned my bike over to them and went upstairs.
All the rooms at the Red Wing Hotel seem to have names; ours was the "Sea Wing" which was named after a wreck on Lake Pepin that cost 98 lives. There was a list of the dead published in an old newspaper that was framed on one of the landings of the old grand staircase. Our room was huge and well-apportioned with a very comfortable bed. After a good night's sleep, we were ready to explore Red Wing which is famous for boots and pottery.
On to Day 2