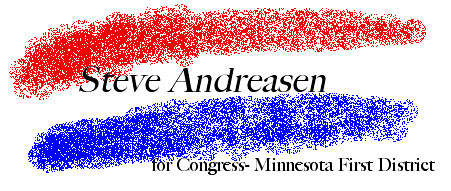 Campaign Contributions
Your financial support is much appreciated! Contributions can be made by personal check and can be mailed to the address below.
Andreasen for Congress
P.O. Box 5772
Rochester, MN 55903
All contributions to political campaigns are subject to laws and guidelines established at the Federal and State levels. Specific, detailed information may be obtained from the Federal Election Commission. Contributions that are not in compliance with the law will be returned to the contributor.
We may accept contributions from an individual or group totaling up to $1000 per election. Anonymous contributions of more than $50 cannot be accepted.
Contributions are not deductible for federal income tax purposes. Federal law requires us to use best efforts to collect and report the name, mailing address, occupation and name of employer of individuals whose contributions exceed $200 in a calendar year. Contributions from foreign nationals, federal contractors and corporations are not solicited or permitted.
Paid for and authorized by Andreasen for Congress