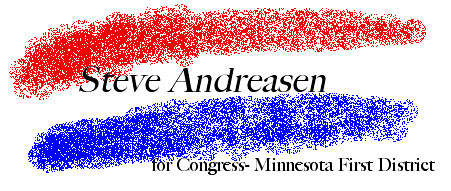 Who is Steve Andreasen?
Steve Andreasen was born and raised in Richfield and has lived there, in St. Peter and Rochester. Steve also served his state and his country in Washington working on national security issues for Democratic and Republican Administrations
Steve attended public school and graduated from Richfield High School in 1980. He went on to receive his B.A. from Gustavus Adolphus College in St. Peter in 1984, and graduated with an M.A. from the Hubert H. Humphrey Institute of Public Affairs in 1986.
Steve has devoted his professional life to public service and has a strong background in bipartisan leadership.
He worked in national security for 14 years during the Clinton, Bush Sr. and Reagan Administrations.
Steve served as Director for Defense Policy and Arms Control on the National Security Council (NSC) staff at the White House from February 1993-January 2001. He was the principal advisor on strategic policy, nuclear arms control and missile defense to the National Security Advisor and the President.
Prior to being assigned to the White House, Steve served in the State Department's Bureau of Politico-Military Affairs and the Bureau of Intelligence and Research, dealing with a wide range of nuclear weapons, arms control and related defense policy and intelligence issues.
As a Presidential Management Intern, he served as a Special Assistant to Ambassador Paul Nitze in the State Department focusing on the Strategic Arms Reduction Talks, and as a Foreign Policy and Defense Legislative Assistant in the office of Senator Albert Gore Jr.
Steve lives in Rochester, Minnesota, where he is working as a national security consultant and writing a book on nuclear weapons, arms control and missile defense.
Paid for and authorized by Andreasen for Congress