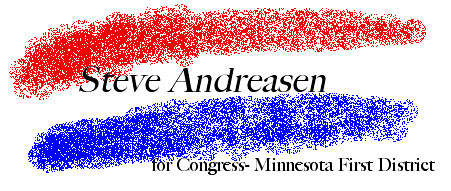 Why is Steve Andreasen running for Congress?
Steve has devoted his professional life to public service and understands the extraordinary time we find ourselves in today, with both our security and our economy at stake in this election.
Steve is also deeply concerned with the corrosive effect of partisan politics, fueled by money and special interests, on our nation and our priorities, which has hurt Minnesotans and all Americans.
Steve will work to find common ground on the most important issues before us today: first, how to improve our national security, and second, how to restore and strengthen our economy to improve the quality of life and opportunity for all Americans.
Steve is committed to restoring fiscal balance, protecting Social Security, Medicare and the environment, and moving as quickly as the economy and budget permit to put domestic priorities -- education, prescription drugs, and rebuilding the nation's infrastructure -- back on the front burner. Steve would also work hard to pass meaningful reform in agriculture, campaign finance, and protecting worker's retirement plans.
Paid for and authorized by Andreasen for Congress