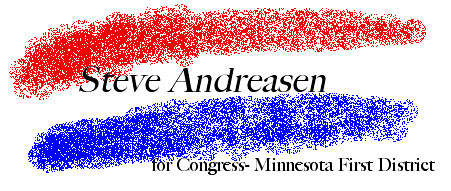 Revitalizing and Strengthening Our Economy
Tax Policy
When the current Administration took office, the Government projected a surplus of $5.6 trillion over the next ten years; promises were made to maintain the Social Security and Medicare reserves; to provide a prescription drug benefit to seniors; to increase our commitment to education; and of course, to have a tax cut.
A year later, $4 trillion of our hard-earned federal budget surplus is gone, much of that going for tax cuts for the wealthiest one percent of Americans. We will be raiding Social Security and Medicare to pay for other federal programs for the next decade. The Administrationis own education initiative is under funded. And we are still waiting on a prescription drug benefit for seniors.
As a priority, I would ensure that our nation's tax policies benefit working families first- not the wealthiest one percent of Americans- and create jobs, not simply enhance corporate profits.
Labor Issues
I grew up in a union household. My father worked for the phone company for over thirty years, and was a member of the Communications Workers of America. And I am well aware that my parents' income and ability to send their two children to college, as well as retire in security, was directly tied to efforts of labor unions on their behalf. For that, I will always be grateful, and I will work to ensure that todayis working families have the same opportunities.
I strongly believe in unions, the right to organize and the right to bargain collectively. Those rights are clearly stated in national labor laws, and those laws need to be vigorously enforced.
I will support the right of working people to make a free choice to form a union and bargain collectively, in an environment free of interference, coercion harassment, reprisals or delay.
I will publicly support workers who are forming unions by reaffirming the importance of unions to our communities and by taking actions such as issuing public statements, attending rallies supporting organizing, sponsoring public forums, and the like.
I will use my moral and legal authority to support local, state and national legislative and administrative actions that limit employer efforts to block workers' exercise of the freedom to organize and join a union.
I will urge employers to:

1) Respect employees' right to form a union by remaining neutral during union organizing campaigns;
2) Recognize a union voluntarily when the majority of the employees choose to form one; and
3) Bargain in good faith to reach an agreement with the union that represents the employees.
I will also push to make progress on issues that are important to union households and working families across the district:
Restoring and strengthening our economy to help working families
protecting Social Security and Medicare
tax fairness
education
prescription drug benefit for seniors
rebuilding our nation's infrastructure
campaign finance reform
agriculture policy reform
protecting worker retirement plans
improving national security.
The rural economy
We continue to see mergers and concentration in the Ag Industry - just like in many other sectors of our economy, such as Energy, Defense, Telecommunications, and Media. I am concerned at the anti-trust implications of this development, and the possible adverse impacts on family farms in Minnesota. This is one of the key issues that we need to shine a light on from a number of different angles - and I would expect it to be a primary focus of the Commission on Agriculture Reform.
The issue of economic concentration and agribusiness mergers also goes to the issue of our global competitiveness, trade, and our nation's security. Simply put, are we better off to turn agricultural production over completely to a few large corporate players, or are we better off supporting small and medium size family farms to provide food security for our country? Under the current Administration, the balance seems to be tipping dramatically in the direction of large, corporate agribusiness. I am very concerned over the short- and long-term implications of this on rural life in Minnesota and America, as well as on our economy as a whole.
International trade issues
Both the Senate and the House have now passed "Fast Track" authority. Such authority (which will remain in place for 5 years) allows the Administration to bring completed trade agreements to Congress for an "up or down" vote - Congress can still veto any trade deals, but it cannot amend the agreements. The Fast Track bill included provisions for subsidized health insurance and job training benefits for those workers effected negatively by any trade deals. The final bill dropped a provision in the Senate bill proposed by Senator Dayton that would have allowed Congress to veto any weakening of laws prohibiting "dumping" - though the final bill does require consultations with Congress. The Administration has said it will now focus on (1) trade agreements with Chile and Singapore, (2) a trade agreement with 5 Central American countries - Nicaragua, Costa Rica, Honduras, El Salvador, and Guatemala, and (3) by 2005, a 34 nation Free Trade Area of the Americas, similar to NAFTA.
Trade is a reality and a necessity in the modern international economy. I will support free and fair trade principles that will benefit Minnesotans and improve our ability to market Minnesota-developed commodities in the world market.
The Administration now has Fast Track authority; as your Representative, I will work closely with the Administration and its Trade negotiators to protect the interests of Minnesotans. Had I been in Congress, I would not have voted to further diminish the role of Congress and the voice of the people in the area of trade.
When I served in the Executive branch, I worked on some of the most complex and critical agreements in our nation's history, and then worked with Congress to obtain support for these agreements. I will carry out this responsibility diligently as the First District's Representative in Congress. Your member will need to work closely with the Administration to protect your interests. All trade agreements should include strong provisions regarding worker and environmental protections. It is essential to avoid a repeat of NAFTA's failings in this regard.
Paid for and authorized by Andreasen for Congress