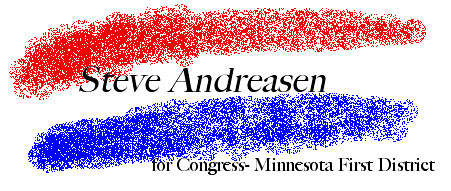 Endorsements
October 22, 2002
The Rochester Post Bulletin today announced its endorsement of Steve Andreasen for Congress in Minnesota's First District. Acknowledging Steve as a "national security expert," the Post Bulletin declared that "[it] is necessary not only to scrutinize the abilities of each candidate but to decide which one favors policies that are best for the future of this country."
Regarding Steve's position on national security, the Post Bulletin wrote "(we) believe Andreasen is right in opposing a headlong rush into war with Iraq. We believe he is right also in seeing the need to roll back Bush's discriminatory tax reduction plan to reduce the budget deficit and find funds for necessary expenditures."
"It is true that Andreasen is a newcomer to the community, but he has a solid knowledge of national security issues and he has made intelligent proposals on other policies," summarized the Post Bulletin.
"To make sure that the president doesn't have a blank check in putting this country on a dangerous path, we recommend the election of Steve Andreasen as member of Congress from the First District."
The Star Tribune today announced it's endorsement of Steve Andreasen for Congress. The Star Tribune stated that "Gutknecht has never quite measured up to First District predecessors such as Al Quie and Tim Penny, and this year voters have a superior alternative in Democratic challenger Steve Andreasen." The Star Tribune went on to note that "[Steve] is fluent in the district's issues, from agriculture to medicine to highways, and he already shows greater sophistication than the incumbent on many topics."
Steve and the Andreasen for Congress wish to thank the Post Bulletin and the Star Tribune for their endorsements.
The following have endorsed Steve Andreasen for Congress
National Education Association
American Federation of Teachers
Minnesota AFL-CIO
United Auto Workers
United Food and Commercial Workers
Pipefitters Union
International Union of Operating Engineers
Teamsters
Clean Water Action
Building and Trades
Leadership 2002
Communication Workers of America
Rochester Post Bulletin
The Minneapolis Star Tribune
Steve and the Andreasen for Congress campaign would like to express our deep appreciation for the faith and trust of our endorsers.
Paid for and authorized by Andreasen for Congress