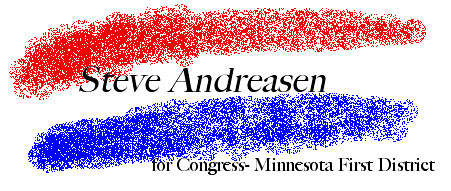 Andreasen Proposes Commission on Agriculture Reform
FOR IMMEDIATE RELEASE
August 6, 2002
Andreasen Proposes Commission on Agriculture Reform
(Redwood County, Minnesota) Minnesota native Steve Andreasen, the DFL candidate for Congress in Minnesota's First Congressional District, proposed a Commission on Agriculture Reform (CARE) today at FARMFEST 2002 in Redwood County, Minnesota.
"We have seen how business as usual in the area of national security did not adequately prepare our country to defend against the new threats of international terrorism. Similarly, business as usual in the area of agriculture policy will not help us prepare for the challenges of a new century," Andreasen said.
Andreasen underscored that a "New Look" was needed in the area of Federal Agriculture policy to protect family farms, strengthen our rural economies, and improve the position of American agriculture overseas. He said there was no better example of a national security issue than agriculture.
The CARE Commission would consist of farmers, ranchers, food processors, agribusiness, environmentalists, and consumers, and would include members from across the political spectrum. The CARE Commission would be charged with examining the situation we find ourselves in today; defining our future challenges; and recommending solutions to the President and the Congress.
Andreasen lives in Rochester. Prior to running for Congress, he was the Director of Defense Policy and Arms Control on the National Security Council staff at the White House from 1993-2001. He also served in the Bush Sr. and Reagan Administrations. He is a national security consultant and is writing a book on nuclear weapons, arms control and missile defense policy.
Paid for and authorized by the Andreasen for Congress Campaign
Paid for and authorized by Andreasen for Congress