<!- text goes here ->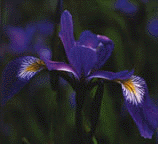 Flower Essences and Vibrational Remedies
Vibrational Remedies are tools for healing and spiritual growth. They work by introducing new energies into a person's energy field that balance or modify troublesome imbalances that are present. The effects of these remedies can be experienced at many levels -- physical, mental-emotional, and spiritual. These pages describe some aspects of this vast topic and the many remedies that are available.
As with all health problems, it is important to avail yourself of proper medical treatment, if necessary. Please see the Legal Disclaimer page before proceeding.

Heads Up! The entire Flower Essence area of the new web site is now complete and usable. I will no longer be making updates to this area in the old site, so this is a good time to move over to the new site. Please stay abreast of our Moving and Renovation Plans during this transition period. Don't forget to update your bookmarks.
---
Main Topics:
These pages explain what these remedies are, how to make them, and how to use them.
What are Vibrational Remedies all about?
About Flower Essences
About Gem Elixirs
Homeopathic Crystal Water (HCW) Techniques
How do you use these Remedies?
Articles about Flower Essences
Descriptions of the Remedies Available from BPI
Flower Essences
Gem Elixirs
Garden Formula -- a remedy mixture for the health of your garden and house plants.


General HCWs
Astrology Collection (HCW) -- remedies that capture some of the critical astrological energies of recent years.
Eclipse Collection (HCW) -- remedies that collect the transformative energies of solar and lunar eclipses over the years from 1991 to the present.

Misc. Topics
Flower Essence Classes
Ordering Info -- for all remedies.
Legal Disclaimer -- a metaphysical and somewhat political song to soothe the savage beasts around us.
BPI Home Page -- Back to the Home Page !
Navigation Tips -- An overall view of the site and how to move around in it.